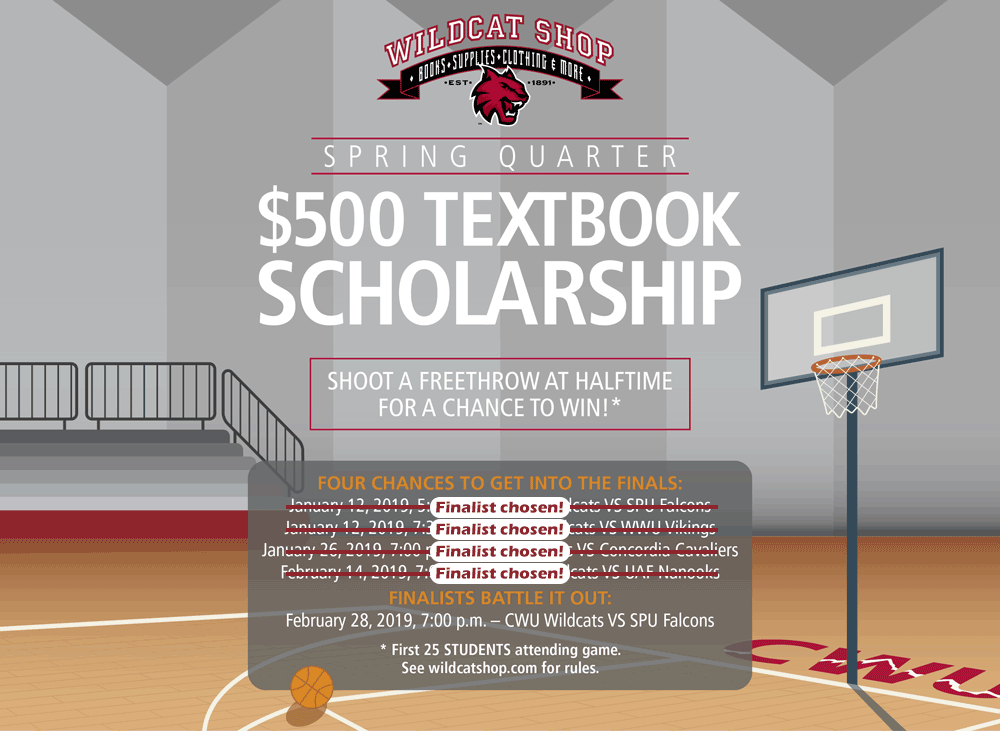 Wildcat Shop Spring Quarter Textbook Scholarship
One Spring Quarter textbook scholarship* will be awarded to the student that wins the free throw competition.
The first 25 CWU students to attend the below listed games will each receive a 'ticket' to shoot free throws during that games half time:
January 12, 2019, 5:15 p.m. – CWU Wildcats VS SPU Falcons Finalist chosen!
January 12, 2019, 7:30 p.m. – CWU Wildcats VS WWU Vikings Finalist chosen!
January 26, 2019, 7:00 p.m. – CWU Wildcats VS Concordia Cavaliers Finalist chosen!
February 14, 2019, 7:00 p.m. – CWU Wildcats VS UAF Nanooks Finalist chosen!
One winner from each of the above games will battle it out during half time February 28, 2019, 7:00 PM at the CWU Wildcats VS SPU Falcon game.
For all games the 'ticket' holders will meet on the floor at half time and shoot baskets from the free throw line, where they will throw until they miss. The consecutive baskets that they make will be their total. In the case of a tie, those who tied will throw until there is one winner per game.
At the final game there will be 4 finalists, one from each game, who will go through the same process. The person that makes the highest number of consecutive free throws in the finalist game, will be the winner of the Spring Quarter Textbook Scholarship. Athletics will contact the Wildcat Shop with the winners name and student ID.
* To claim the scholarship the winner will need to be registered for Spring Quarter and will receive the use of textbooks for Spring Quarter, the value of which will be up to $500. Textbooks will need to be returned to the Wildcat Shop at the end of Spring Quarter 2019.